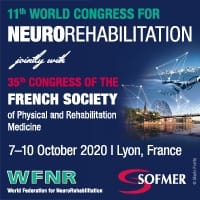 WCNR & SOFMER 2020
Join us for the 11th World Congress for NeuroRehabilitation in Lyon, France!
The WCNR & SOFMER 2020 will focus on a well-balanced relationship between senior and young scientists and clinicians involved in NeuroRehabilitation as well as Physical and Rehabilitation Medicine, in order to create exciting interdisciplinary exchanges.
There is little time left to submit your scientific paper to the and actively shape the congress with your contributions.
> Abstract Submission
> Call for Abstracts
Don't miss to check out the preliminary programme details with exciting and stimulating sessions and workshops!
Do not hesitate to contact our PCO Conventus via wcnr@conventus.de!
We are looking forward to seeing you in Lyon!
With best regards,
Gilles Rode & Dominic Pérennou
Congress co-chairs
P.S.: Inform your colleagues about the WCNR & SOFMER 2020!