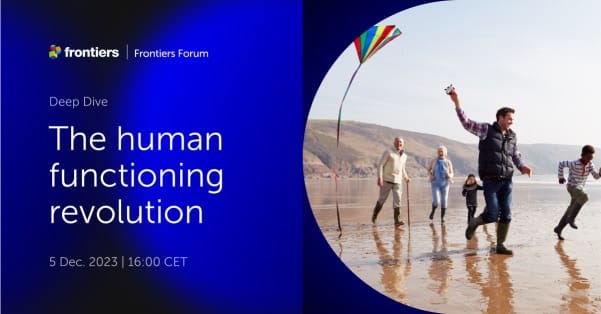 The human functioning revolution – Frontiers Forum
Rethinking health systems and sciences to bridge health, well-being and societal welfare
Join Professors Gerold Stucki, Walter Frontera and other renowned researchers for a deep dive into the next steps required to integrate biological and lived experiences of health – human functioning – into healthcare systems.
Human functioning constitutes a rethinking of health that goes beyond disability and disease. It encompasses the activities that people perform in their everyday lives and is the bridge that links health to individual well-being and societal welfare. The concept was first conceived more than 20 years ago but is still not a standard part of healthcare practice.
In their Frontiers in Science lead article, and its hub of complementary content, the speakers present a strategy for implementing human functioning across health systems and policies to effectively link health and well-being. They propose a new interdisciplinary field – human functioning sciences. This provides promise for the integration of diverse research topics and methods to provide a fuller understanding of human health, helping to account for its value, and potentially unlock investment and progress towards achieving United Nations Sustainable Development Goal (SDG) 3.
In this virtual Frontiers Forum Deep Dive session, the article authors will address the methodological, implementation, and communication challenges within health systems and society, and the action required to fully realize the opportunities offered by this rethinking of health. You'll have the chance to pose your questions in the interactive audience Q&A and can also ask your questions in advance by emailing fsci.events@frontiersin.org.
The program includes:
The human functioning revolution – an introduction | Prof Sara Rubinelli | Faculty of Health Sciences and Medicine, University of Lucerne, Switzerland, and Swiss Paraplegic Research

Realizing the societal value of health through functioning | Dr Frederico Guanais | Deputy Head of Health Division, OECD

Implementing functioning across health systems and sciences | Panel discussion facilitated by Prof Gerold Stucki and Prof Jerome Bickenbach, University of Lucerne, Switzerland, and Swiss Paraplegic research. The panel session will include all speakers, and:

Prof Walter Frontera | Department of Physical Medicine and Rehabilitation, University of Puerto Rico School of Medicine, Puerto Rico

Prof Hannah Kuper | International Center for Evidence in Disability and Department of Population Health, London School of Hygiene and Tropical Medicine, UK

Aleksandra Posarac | Economist – formerly program leader for human development in the South Caucuses, the Philippines and Southern Africa at The World Bank

Prof Birgit Prodinger | Faculty of Medicine, University of Augsburg, Germany

Audience Q&A